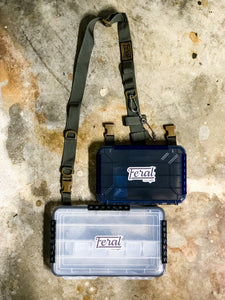 Just like it sounds.  THE SUPER COMBO is a BIG BOX a Waterproof Plano 3700 series 14"L X 9"W X 1 3/4" AND a Flambeau Z Rust Waterproof Box 10.7"L x 7.2"W x 1 3/4". 
My buddy Chris at THE SPECKLED TRUTH likes this combo.  Gear up for big baits in Fall and Winter with the Big Box and pair down when you want to go light and minimalist with the ORIGINAL Feral Wader Box.  It's the best of both worlds! 
You get the same bombproof Feral Wader strap with all the multiple attachment points for tools, nets and pliers and the ability to interchange boxes in seconds.  Have it all with the Super Combo Wader System
1 Longliner Clip comes with every strap.  Need more we got you covered just add them to your cart!
VETERAN MADE IN TEXAS USA!
IF YOU WANT CHEAP GO TO CHINA. IF YOU WANT FOREVER, BUY FERAL!