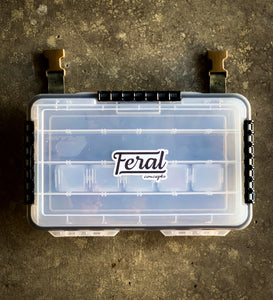 THE BIG BOX
For those of y'all that like to carry a little more than the basics we offer THE BIG BOX a Plano 3700 series 14"L X 9"W X 1 3/4" H 
Great for the wader who may be going a little farther on that long wade and ideal for the winter big trout wader carrying Corkys, Jerk Baits and Glide Baits and other hard baits.
For our customers that already own a strap the Big Box can be switched out easily via the Fas-Tex buckles on the Original Wader Box Strap. No need to buy the strap again unless you just REALLY like us and want another one. Just buy the box.
For our new customers you can get the Big Box & Strap OR Get the Super Combo and have both boxes.  See BIG BOX & STRAP or Super Combo Package! Sold Separately.
Proudly Veteran Made in TEXAS USA!
IF YOU WANT CHEAP GO TO CHINA. IF YOU WANT FOREVER,BUY FERAL!