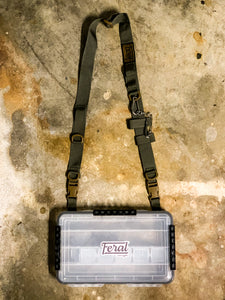 No sexy names just the goods.   By popular demand the BIG BOX & WADER STRAP is now available.

THE BIG BOX a Plano 3740 series Waterproof Box 14"L X 9"W X 1 3/4" H. 
Perfect for those that like to carry more than the minimalist and like everything readily available just like the Original Feral Wader Box, just bigger!
Ideal for the Winter, Big Trout Angler that needs to carry larger baits like: Corkys, Jerk Baits, Mirrodines, Soft Dines and Glide Baits.  The strap is the same bulletproof Nylon with multiple attachment points for your tools and a handy plier sheath. 
1 Longliner Clip comes with every strap.  Need more we got you covered just add them to your cart!  5 Clip minimum.
** NOTE:  IF YOU ALREADY OWN A STRAP AND JUST NEED THE BIG BOX OR IF WANT MULTIPLE BOXES READY TO CLIP IN TO THE STRAP WE OFFER THEM SEPARATELY.
100% Veteran made here in Texas USA
"IF YOU WANT CHEAP GO TO CHINA. IF YOU WANT FOREVER, GO FERAL!